April
17
Proud to be different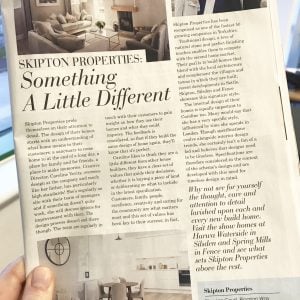 Have you read May's Aspire magazine? If you haven't yet and have a few spare minutes turn to page 51. Our Creative Director, Caroline spoke to them about our homes, our values and our style. We are hugely proud and passionate of our work at Skipton Properties. It's nice to see this recognised in a magazine that so many of you read.
For those of you that haven't had Aspire through your door we have copied the article below:
'Skipton Properties pride themselves on their attention to detail. The design of their homes starts with an understanding of what home means to their customers: a sanctuary to come home to at the end of a long day, a place for family and for friends, a place to make memories. Creative Director, Caroline Verity, oversees design at the company and much like her father, has particularly high standards! She's regularly on site with their team of managers and if something doesn't quite work, she will discuss options for improvement with them. The design process doesn't end there though. The team are regularly in touch with their customers to gain insight on how they use their homes and what they could improve. The feedback is considered, so that if they build the same design of home again, they'll know that it's perfect.
Caroline likes to think they are a little different from other house builders, they have a clear set of values that guide their decisions, whether it is buying a piece of land or deliberating on what to include in the latest specification. Customers, family, people, excellence, creativity and caring for the community are what matters most and this set of values has been key to their success; in fact, Skipton Properties has been recognised as one of the fastest 50 growing companies in Yorkshire.
Traditional design, a love of natural stone and perfect finishing touches enables them to compete with the second home market. Their goal is to build homes that blend with the local architecture and complement the villages and towns in which they are built; recent developments in Settle, Skipton, Silsden and Fence showcase this signature style.
The internal design of their homes is equally important to Caroline too. Many would say that she has a very specific style, influenced by time she spends in London. Though specifications evolve alongside interior design trends, she certainly isn't a fan of a fad and believes that designs need to be timeless. Specifications are therefore considered in the context of the scheme's design and are developed with this need for timeless design in mind.
Why not see for yourself the thought, care and attention to detail lavished upon each and every new build home. Visit the show homes at Harwa Waterside in Silsden and Spring Mills in Fence and see what sets Skipton Properties above the rest.'
---